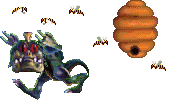 The Wasp Nest COB was created by Steve Dismukes of Fig's Tree. This COB injects a wasps' nest into the tree branches near the Submarine Cave. When the nest is pushed, swarms of angry wasps will spew forth. These wasps are attracted to honey pots.
Creatures who 'push' the nest or are stung will experience:
The Wasps' Nest COB uses these C1 class numbers:
2 8 171 (The Wasps' Nest)
2 10 161 (The Wasps)
Ad blocker interference detected!
Wikia is a free-to-use site that makes money from advertising. We have a modified experience for viewers using ad blockers

Wikia is not accessible if you've made further modifications. Remove the custom ad blocker rule(s) and the page will load as expected.