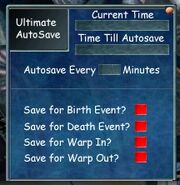 The Ultimate Autosave is an agent for saving your game after certain events. It lists the current time, time until next save, and allows you to set the interval between saves.
In addition, this agent can be set to save the world after any of the following: Birth Event, Death Event, Warp In, Warp Out.
The Ultimate Autosave can be downloaded from Albia2000 Free registration required.
Ad blocker interference detected!
Wikia is a free-to-use site that makes money from advertising. We have a modified experience for viewers using ad blockers

Wikia is not accessible if you've made further modifications. Remove the custom ad blocker rule(s) and the page will load as expected.