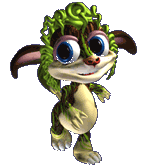 Species Specifics
The Treehugger Norns are, as their name might imply, the most peaceful of the norns, with a liking for plants and disdain for overcrowding. They're rather susceptible to disease; however, the Panatreea Potion that comes with them makes taking care of them much easier.
As described in the Treehugger Norn Story, they come with the Quirky Cookie Machine which can create a variety of tasty cookies. They also come with their very own Random Teleporter, the dandelion-like Popping Pappus plant, and a Cuddly Tree doll.
You could only buy the Treehugger Norn Pack at the Gameware Creatures Mall. As of 2013, Treehuggers, along with the other Mall Breeds, are unavailable, with no indication when they will be back, although there is hope that they will be included in the Creatures Online Collector's Edition along with the other currently unavailable Norn packs.
External links

Ad blocker interference detected!
Wikia is a free-to-use site that makes money from advertising. We have a modified experience for viewers using ad blockers

Wikia is not accessible if you've made further modifications. Remove the custom ad blocker rule(s) and the page will load as expected.