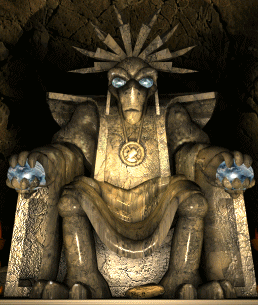 The Shee Statue is a rather imposing depiction of a Shee in the Albia of Creatures 2. It imposes a great deal of fear on all creatures who dare to approach it. When a creature come to Shee, Shee's eyes will become light purple. It is also known to scare a creature to literal death if they stare at it way too long... But don't worry, it is still pretty safe for norns! No harm shall come to them if they get past it quickly! Regarding this information, there have been recorded deaths of norns because they refused to move once they see the statue.
Ali of Albia 2000 also made a Shee Statue COB for Creatures 1.
Ad blocker interference detected!
Wikia is a free-to-use site that makes money from advertising. We have a modified experience for viewers using ad blockers

Wikia is not accessible if you've made further modifications. Remove the custom ad blocker rule(s) and the page will load as expected.