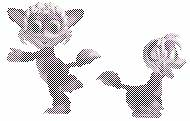 The
Shadow Norns
are really special, they look like a shadow! If you put a Shadow Norn in the
Grendel Jungle
, it looks like the Jungle; if you put it in the
Norn Meso
it looks like the Meso, as they are transparent. They are also amphibious, and tend not to
wall-bonk
so much.
The Shadow Norns were made by Marcus K. quite some time ago. Marcus forgot about them, but remembered when Tina asked for a norn breed for her website. Now you can download them at Tina's Creatures Paradise.
If you breed the Shadow Norns with normal Norns, the offspring will look very funny. ;-) This picture taken by Marcus on this site shows the head of a Shadow Norn mix.
Ad blocker interference detected!
Wikia is a free-to-use site that makes money from advertising. We have a modified experience for viewers using ad blockers

Wikia is not accessible if you've made further modifications. Remove the custom ad blocker rule(s) and the page will load as expected.