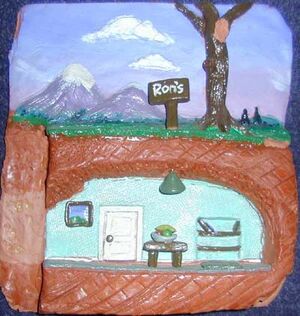 Ron's House is a metaroom for Docking Station created by clohse, with some input from Liam, malkin and other Creatures Community members. It was created using Steve Grand's plaster-of-paris prototype of Ron's Burrow (circa. 1995!) for the background artwork. The final version includes lifts, critters, all essential food groups, as well as a couple of easter eggs.
Version 2, which hopefully will fix any map overlap problem, is hosted at Bibbleworld.
Related Links
Ad blocker interference detected!
Wikia is a free-to-use site that makes money from advertising. We have a modified experience for viewers using ad blockers

Wikia is not accessible if you've made further modifications. Remove the custom ad blocker rule(s) and the page will load as expected.