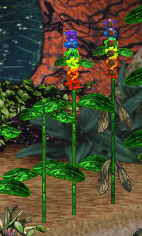 Rainbowbamboo is a fast propogating plant which is named after its rainbow colored flowers. It's complete life cycle is fairly fast, making Rainbowbamboo a good source of seeds. Each plant will produce six nuts at a time, and many flower petals. The flower petals are classified as a leaf, and have medicinal properties if your creatures eat them.
A potted version of the Rainbowbamboo plant can be downloaded from The Norngarden.
The original Rainbowbamboo Plant is an integral part of Norngarden 1.

Ad blocker interference detected!
Wikia is a free-to-use site that makes money from advertising. We have a modified experience for viewers using ad blockers

Wikia is not accessible if you've made further modifications. Remove the custom ad blocker rule(s) and the page will load as expected.