This article is about a project that is in development.
Information may change significantly as the project progresses.
Norn Builder is a new cross-platform Creatures developer tool written by Don. It is currently compatible with Creatures 1, Creatures 2, Creatures 3/Docking Station and Creatures Village, and runs under Windows, with Linux and Mac OS X releases to follow.
The Norn Builder's main functions include the loading, editing and saving of body data attachment files, and for use as a creature-poser for making website clip art.
Tasks Remaining
Adding short text labels to the display and attachment boxes.
Inclusion of a small toolbar at the top for keyboard commands.
Current attachment coordinates to be shown in the image area.
Video Demonstration
You can also download the preview video here
Image Preview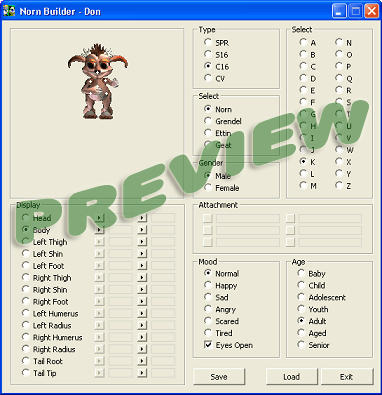 External links
Ad blocker interference detected!
Wikia is a free-to-use site that makes money from advertising. We have a modified experience for viewers using ad blockers

Wikia is not accessible if you've made further modifications. Remove the custom ad blocker rule(s) and the page will load as expected.