Muppetboy's Geatville
is a
Creatures 1
focused development site.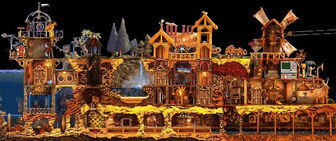 It seems to be partially archived: COB archive breeds archive dev. info archive
Webmaster: Muppetboy
Ran from/to dates: unknown
Summary of Content
Genetics: Gene Types, Header, Brain, Looks, Movement, Chemical, Complete Genew List.
Breeds: C1 Genetics and Sprites Breeds, Mutants, Grendel, Ettin, Shee, Comparing Norns
COBs:

My Cobs: Rooms, Food & Plants, Breeding, Misc. Many fun, unique and useful new COBs including the Carrot Variety Pack (which later included the Parsnip Patch), the Everlasting Honey cob and the Juicy Apples
Useful COBs: Patches & Tools, Edible Stuff, Toys & Music, Animals & Plants,
C1 Worlds
Programs, Patches and Updates,
Other Stuff of Mine
Classes I Have Used
Cob ideas

Info: History, Consumables, ATT & SPR, Tit Bits, Weird Albia, The Shee, Medical Book, Linguistics, Cheats, Female Cycles, Behaviour, Glyco & Gluc, Hybrids, Grendels, Breeding, Cob Classes, Room Data, Hexadecimal, Sleep, Chemical List, Population
CAOS: General Hints, Example Scripts, Execution, Creation, System Creature, Value Manipulation, Object Values, Object Commands, Room & Environm, Pointer Values, Vehicles, Blackboard, Sounds, dde: commands, random, Eggs, Script Events
Mine: My Norns
Links: Including information on the Creatures games the sites cover and what is available on each one.
History of Website
Originally started as a few pages hosted on joint site Shepwright, later gained it's own domain name.
Later versions of the site specialised in C1, and added own breeds and cobs.
Was relaunched in mid-October 2009 in time to celebrate CCSF 2009
Interesting Facts


Muppetboy is a nickname picked up at University (that's college to some of you)
Muppetboy still thinks the first game is the best in the series, despite the innovations of the sequels, hence making a site devoted to preserving and creating content for the original Creatures.