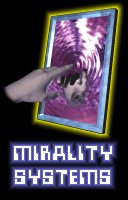 Mirality Systems is home to many tools that have helped make Creatures 3/Docking Station a nicer place, including the popular PRAY decompiler, REVELATION.
Addreses:
Webmaster: uecasm (Gavin Lambert)
Ran from/to: 4 October 2001 - current (Last update: 8 September 2004)
Summary of Content
Several widely-used tools and agents for C3/DS:
Agents
Tools
Interesting Facts
The above agents were translated into French by pasto.
Ad blocker interference detected!
Wikia is a free-to-use site that makes money from advertising. We have a modified experience for viewers using ad blockers

Wikia is not accessible if you've made further modifications. Remove the custom ad blocker rule(s) and the page will load as expected.