Macintosh Creatures Exodus
From Creatures Wikia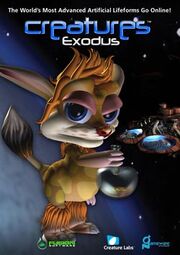 Kutoka Interactive
released this version of
Creatures Exodus
for Mac OS X on September 30th 2005. The game is currently available from Kutoka's
online boutique
and from some retail outlets. See
Macintosh
for the background information.
Creatures Exodus combines the previous releases Creatures 3 and Docking Station and includes the following breeds:
Purchasing
The titles are now available for ordering online (Kutoka delivers to French Canada and North America) and in retail stores beginning from the 30th of September 2005.
Kutoka's shop states that over 300,000 copies of the game have been sold.
Mac Compatibility with Windows/Linux files
Agents, Metarooms, Breeds and Adoptions are compatible, see Mac C2E for detail.
Mac Requirements
PowerPC: G3 (900MHz), G4 (700Mhz), G5
OS X 10.2, 10.3, 10.4
12 Speed CD-ROM
800x600 Minimum Resolution
Standard Macintosh Sound
128MB RAM
600MB of hard drive space
Key Commands
Related Links
External links