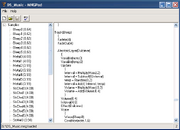 MNGPad is a program written by GreenReaper for creating and editing music in the MNG format for Creatures 2, Creatures 3 and Docking Station. This music can be played in its sister program, MNGPlayer - these are packaged together as part of the MNGEdit project. It requires the .NET Framework from Windows Update to be installed first.
External links
Ad blocker interference detected!
Wikia is a free-to-use site that makes money from advertising. We have a modified experience for viewers using ad blockers

Wikia is not accessible if you've made further modifications. Remove the custom ad blocker rule(s) and the page will load as expected.