The Hub
is a room in
Creatures Docking Station
devoted entirely to connecting the
Capillatas
metarooms
. These metarooms are the
Norn Meso
, the
Comms Room
and the
Workshop
. If the
Capillata
is
docked
with
Creatures 3
Ark
this
metaroom
will also allow you and your
norns
to travel between the two.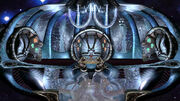 A hub is also a term used to refer to a community centre, such as Albia2000 or Creatures Caves.
The Capillata Hub is also the name of coolpikaaa's webpage.
Ad blocker interference detected!
Wikia is a free-to-use site that makes money from advertising. We have a modified experience for viewers using ad blockers

Wikia is not accessible if you've made further modifications. Remove the custom ad blocker rule(s) and the page will load as expected.