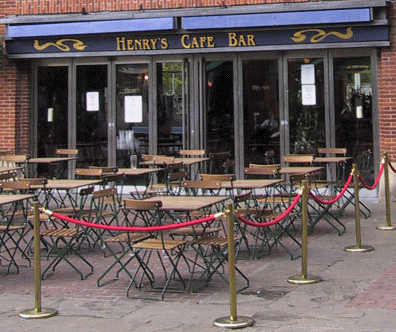 Henry's Cafe Bar was situated directly beneath the Creature Labs Quayside offices, and as such was a popular destination for employees to take a break, or entertain visitors.
Henry's is mentioned in a gaming industry case study:
Chris McKee believes innovative people spark creative ideas among their colleagues. "If you are a creative business, you really need people together all the time," he says. "A lot of good ideas come totally unplanned in a serendipitous way. It's very hard to do that remotely." Much of the creative spark is cultivated in Henry's bar beneath the office. Cross-fertilisation of ideas combines with peer pressure to produce an innovative culture where it is common for people to work through the night and at weekends. But everyone has to be at work by 10am "in order that a buzz is created".
Ad blocker interference detected!
Wikia is a free-to-use site that makes money from advertising. We have a modified experience for viewers using ad blockers

Wikia is not accessible if you've made further modifications. Remove the custom ad blocker rule(s) and the page will load as expected.