This article is about a project that is in development.
Information may change significantly as the project progresses.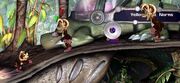 The Hamster Norns are a new breed that is currently in development for Docking Station/Creatures 3. They will occupy Norn slot Y. They will also come with their own metaroom, the Hamster Cage.
The Hamster Norns are going to behave as close to real hamsters as possible. They will also resemble them, but will still be Norns.
The images for the Hamster Norns are being made by Poopster (all the body sprites) and Erling(head sprites). Panther385 started the genetics but due to computer problems, Ratboy has been working on them as of now.
Ad blocker interference detected!
Wikia is a free-to-use site that makes money from advertising. We have a modified experience for viewers using ad blockers

Wikia is not accessible if you've made further modifications. Remove the custom ad blocker rule(s) and the page will load as expected.