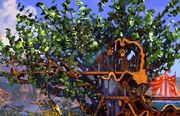 The Grendel Tree grows at the edge of the ocean, and legend has it that it keeps the sky in place. The Grendel Mother lives in this tree, and the fact that her young are born there is what gives the Tree its name. See also Yggsdrasil. Three weeds grow under the Tree's branches - the nightshade, ugly tomato and deathcap, and the cave fly, when injected, also makes its home here.
Ad blocker interference detected!
Wikia is a free-to-use site that makes money from advertising. We have a modified experience for viewers using ad blockers

Wikia is not accessible if you've made further modifications. Remove the custom ad blocker rule(s) and the page will load as expected.