Gosh-hawk (Assipter stewardian)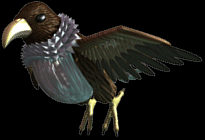 The massive
Gosh-hawk
, larger than a
Norn
child
, is the only
bird of prey
in Creatures 3. It generally resides in the large nest in the upper left of the Norn Terrarium, but from time to time, fly about in search of the equally large
Grazer
. However, despite its size,
Creatures
are completely safe from it. An important role in the game's ecology is filled by the Gosh-hawk- not only does it control the Grazer's population, but it also produces
bones
from its prey that the
ant colony
below its nest depend on for survival.
The Gosh-hawk also possesses an unusual ability to teleport if placed in water or outside the Norn Terrarium. However, to rid of the Gosh-hawk permanently, one must simply use the airlock to kill it- it will not appear again until it is re-injected.
Did you know? The goshawk is an actual terran bird.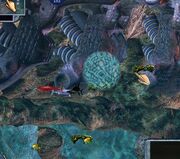 Food web
Ad blocker interference detected!
Wikia is a free-to-use site that makes money from advertising. We have a modified experience for viewers using ad blockers

Wikia is not accessible if you've made further modifications. Remove the custom ad blocker rule(s) and the page will load as expected.