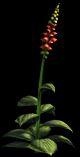 The Foxglove is a small plant which is another simple, yet vital part of the Norn Terrarium. Insects normally get the leaves, and the seeds are commonly devoured by the birds, a good example of one of the seed eating birds being the Woodpigeon, so keep one or two foxgloves around for the sake of the Norn Terrarium's ecosystem!
Ad blocker interference detected!
Wikia is a free-to-use site that makes money from advertising. We have a modified experience for viewers using ad blockers

Wikia is not accessible if you've made further modifications. Remove the custom ad blocker rule(s) and the page will load as expected.