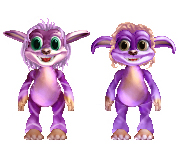 The
Fairyfloss Norns
by
Flame
were released for the
CCSF 2012
. They're purple! =D They occupy Norn Slot Z, the same
breed slot
as the
Pink Alba Norns
. The breed has been in development since at least 2006. Earlier concepts had the general body shape of other C3/DS norns, but later these were scrapped and the whole breed redone, with a new model.
Ad blocker interference detected!
Wikia is a free-to-use site that makes money from advertising. We have a modified experience for viewers using ad blockers

Wikia is not accessible if you've made further modifications. Remove the custom ad blocker rule(s) and the page will load as expected.