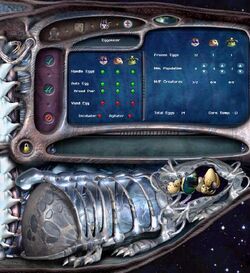 Balor's Eggonicer is an egg handler and creature population monitor.

It can handle Norn, Ettin & Grendel Eggs. It works by teleporting any eggs it finds to the Eggonicer Cryovat and freezing them. By doing this it keeps all the eggs in the world frozen and in one place.
It then checks each of the Norn, Ettin & Grendel populations against user set minimum population values. Then thawing & teleporting an egg one at a time to their corresponding Eggceptor ready to hatch when needed to keep Creature population numbers as set.
It can also change the gender of the unborn creature inside the egg to keep at least one breedable pair in the world.
As a bonus this will allow you to keep in check over population of any of the three types of creature, especially those bored Ettins that pass the time by kiss-popping.
Ad blocker interference detected!
Wikia is a free-to-use site that makes money from advertising. We have a modified experience for viewers using ad blockers

Wikia is not accessible if you've made further modifications. Remove the custom ad blocker rule(s) and the page will load as expected.