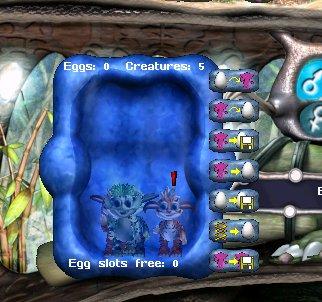 The Eggernator lets you add and remove eggs directly from creatures in C3/DS. Clicking the Eggernator captures the creatures and eggs that are touching it and deep freezes them. By clicking the create egg button with a creature or egg inside, you can clone a creature.
The next version of the Eggernator, Eggernator 2 (now available in Beta from the High Tech Hand Beta page], will help you to splice creatures and eggs together with a preview window so you can see what you have created before it hatches. It also identifies male or female eggs and lets you click on eggs to see information about the parents and genome.
The Eggernator can be downloaded from The High Tech Hand (Link Currently Down).
New Link Found : http://creaturescaves.com/downloads.php?section=COBs&view=251
Ad blocker interference detected!
Wikia is a free-to-use site that makes money from advertising. We have a modified experience for viewers using ad blockers

Wikia is not accessible if you've made further modifications. Remove the custom ad blocker rule(s) and the page will load as expected.