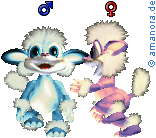 The Dream Norns were drawn by Amanora from the Bengal Norn sprites using the Bondi Norn genome modified by Kathira, and were packaged by Phil. They are available for Creatures 3 and Docking Station and occupy Geat slot F.
Dream Norns have several interesting properties:
Long-life color genes
A low mutation rate
Glycotoxin resistance
They are a little more 'active' than Bondi Norns
Less need for sleep
Resistance against cold weather
They can be downloaded at Amanora's Creatures.
Ad blocker interference detected!
Wikia is a free-to-use site that makes money from advertising. We have a modified experience for viewers using ad blockers

Wikia is not accessible if you've made further modifications. Remove the custom ad blocker rule(s) and the page will load as expected.