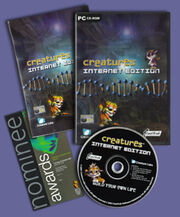 Creatures Internet Edition was a recompilation of Creatures 3 and Docking Station with the addition of the Magma norns. The game was later repackaged (without the CIE instruction manual) as Creatures Gold to re-boost sales.
CIE for Windows has been effectively superseded by Creatures Exodus, which additionally contains the Harlequin and Fallow breeds from the Creatures Mall (again without a paper manual though).
Creatures Internet Edition was published by:
Fasttrack Games
Linux Game Publishing in December 2001
Focus Multimedia (re-released as Creatures Gold) in November 2002
System Requirements
(Best suited to) Windows 95/98
Pentium 200MMX or better
2Mb 16-bit colour SVGA display
800 x 600 resolution minimum
64Mb RAM
300Mb free hard drive space
Related links
External links
Ad blocker interference detected!
Wikia is a free-to-use site that makes money from advertising. We have a modified experience for viewers using ad blockers

Wikia is not accessible if you've made further modifications. Remove the custom ad blocker rule(s) and the page will load as expected.