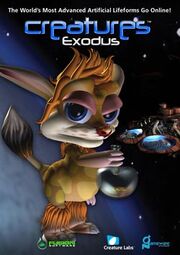 Creatures Exodus is a recompilation of Creatures 3 and Docking Station, designed by Gameware Development to be compatible with Windows XP.
Creatures Exodus includes the following breeds:
System Requirements
Windows XP, Windows Vista, Windows 7 (32 & 64 bit)
1 GHz Processor (1.4 GHz recommended)
256MB RAM (512 recommended)
3D graphics card compatible with DirectX 7 (compatible with DirectX 9 recommended)
Creatures Exodus superseded Creatures Internet Edition/Creatures Gold, which did not include the Harlequin or Fallow Creatures Mall breeds. You may need the Creatures Remastered Patch to make this game work with addon packs designed for previous games.
Related Links
External links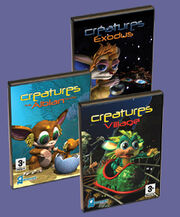 Ad blocker interference detected!
Wikia is a free-to-use site that makes money from advertising. We have a modified experience for viewers using ad blockers

Wikia is not accessible if you've made further modifications. Remove the custom ad blocker rule(s) and the page will load as expected.