This article is about a project that is in development.
Information may change significantly as the project progresses.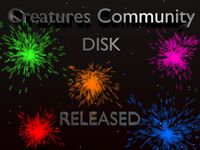 The Creatures Community Disk is a community initiative by ettinshoard, listeel and Geater to promote Docking Station and the Creatures Community by making CDs of DS and third-party content to distribute. The disk contains a variety of agents from the community as well as developer tools by Creatures Labs. Along with the disk is a new Creatures Community site, aimed at new players, for distributing fan work of the community. The current version of the disk is v2 and was released April 27th, 2007. The official birthday of the disk is on the 15th of August each year.
Content
The current version of the disk includes the following content:
Development
The CCD project generally releases new versions towards the end of half terms and holidays and is largely linked to release dates for the CCI. People wishing to develop for the disk should contact one of the project leaders. Version 2.1 may be a while coming due to lack of reasons for a patch.
Participants
The developers of the CCD project are:
Links
Ad blocker interference detected!
Wikia is a free-to-use site that makes money from advertising. We have a modified experience for viewers using ad blockers

Wikia is not accessible if you've made further modifications. Remove the custom ad blocker rule(s) and the page will load as expected.