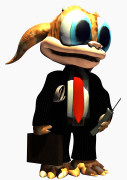 Clothes are agents which can be stuck over a Creature, adapting to its movements and pose changes. Designed to mimic clothing worn by humans. While official clothing has only been present in the Creatures Village games, the Xmas Room for Docking Station comes with santa hats, and Ghosthande has created a wearable MJOLNIR helmet. Andrettin has created a Creature Professions agent which allows C3/DS norns and ettins to wear the CV farmer and knight costumes. For further reference, see Ghosthande's clothing tutorial, found here.
See Also: WEAR
Ad blocker interference detected!
Wikia is a free-to-use site that makes money from advertising. We have a modified experience for viewers using ad blockers

Wikia is not accessible if you've made further modifications. Remove the custom ad blocker rule(s) and the page will load as expected.