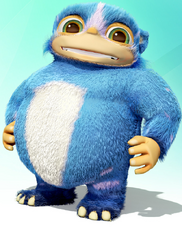 General Information
Game: Creatures Online
Home: The Cavern
The Cavern Norn is a Norn breed that comes with Creatures Online. It lives in the Cavern area of Sphericus and has a stocky build with small ears.
A single Cavern Norn was first seen in the early 2011 demo of Creatures 4 after being rescued from a group of angry chameleons by the player.
Further information about the breed was revealed in August 2012 when Fishing Cactus revealed the Creatures 4 website along with screenshots and information about the game.
Ad blocker interference detected!
Wikia is a free-to-use site that makes money from advertising. We have a modified experience for viewers using ad blockers

Wikia is not accessible if you've made further modifications. Remove the custom ad blocker rule(s) and the page will load as expected.