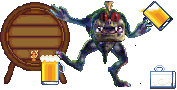 The Beer Keg COB (v. 1.0) was created by Steve Dismukes of Fig's Tree as an accompaniment to the still. Upon injection, the Beer Keg and three frosty glasses appear between the Still and the shower in the cellars of Creatures. The glasses can be refilled by placing the empty glass near the keg and left-clicking on the keg.
Upon drinking the beer, a creature will experience:
This COB uses C1 class numbers:
2 8 162 (The Beer Keg)
2 7 161 (The Beer Glasses)
Ad blocker interference detected!
Wikia is a free-to-use site that makes money from advertising. We have a modified experience for viewers using ad blockers

Wikia is not accessible if you've made further modifications. Remove the custom ad blocker rule(s) and the page will load as expected.