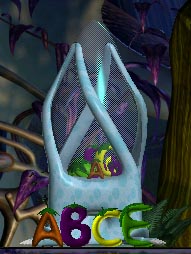 This vendor will dispense letter fruits that are delicious and healthy. Clicking on each of the four different fruits produces a creature voice sound. Each ABC fruit has one of three additional effects; any creature who eats one may receive a small (10%) dose of Antihistamine, Vitamin C or Vitamin E.


Created by
AquaShee
, the ABC vendor can be downloaded from
Albian Oceans
.

Ad blocker interference detected!
Wikia is a free-to-use site that makes money from advertising. We have a modified experience for viewers using ad blockers

Wikia is not accessible if you've made further modifications. Remove the custom ad blocker rule(s) and the page will load as expected.